Shirley Towers inquest jury considers firemen death verdicts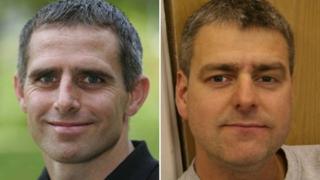 The jury at the inquest into the deaths of two firefighters in a Southampton tower block has retired to consider its verdicts.
Jim Shears, from Poole, Dorset, and Alan Bannon, from Southampton, were overcome by excessive heat inside flat 72 of Shirley Towers on 6 April 2010.
The jury at Southampton Civic Centre began considering its verdict shortly after 14:00 BST.
The inquest, overseen by coroner Keith Wiseman, is in its 16th day.
During the hearing, which has lasted four weeks, the court heard that the fire in a ninth-floor flat of the 15-storey block started after a resident left a curtain resting on a lamp.
Karl Hoffman, who lived in the flat, told jurors he had tried to put out the fire with a cup of water and a bottle of soft drink before a neighbour dialled 999.
Hose techniques
Mr Bannon and Mr Shears, known by the call-sign Red Two, were one of two two-man teams who were the first to arrive at the property.
The other two firefighters, Keith Holland and Liam Ryan - Red One - were soon beaten back by the increasing heat and escaped under "considerable physical distress", the court heard.
Jurors were also told that it was about half an hour after Red Two had entered the flat before a "BA emergency" was declared - meaning the firefighters were in trouble.
Richard Hunt, of London Fire Brigade, who led the investigation, told the court that the fire could have been put out sooner if different hose techniques had been used.
He also praised the crews' valiant efforts in trying to save their colleagues.
Father-of-two Mr Shears, 35, had been a firefighter for seven years.
Mr Bannon, 38, had been a fireman for eight-and-a-half years and had one child.