Secret WWII unit memorial stone in place in Hayling Island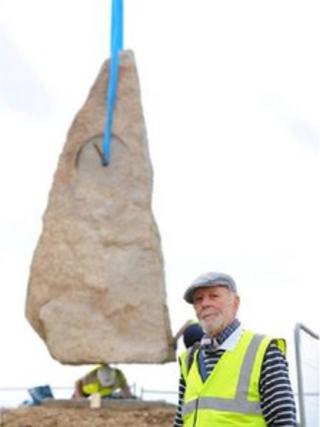 A memorial stone in honour of a World War II Royal Navy unit has been placed on the site where they once trained.
The Combined Operations Pilotage and Reconnaissance Parties (COPP), set up in 1943 to improve invasion techniques, practiced in Hayling Island.
Project leader Robin Walton said the 12-tonne granite stone is the "centrepiece" of a memorial which is due to be unveiled on 27 September.
"It's been a lot of hard work but I am pleased it is in position," he said.
'Special operation'
Part of the £30,000 cost of the memorial was raised by former submariner Jim Booth, one of nine surviving COPP members, who wanted to support a memorial fund to honour his colleagues.
Mr Booth, 91, from Somerset, said the COPP team, who trained as frogmen and canoeists, used small submarines to check Normandy's beaches ahead of the D-Day landings.
Then, during D-Day, they shone beacons to guide the Allied landing craft safely onto shore.
"This operation was special, because Normandy was unique, and it was critical in winning the war," he said.
The £10,000, four metre-high stone, which orginates from a granite quarry in Cornwall, was transported to Hayling Island by a team of six soldiers from 24th Regiment Royal Engineers Commandos, and was placed on a two metre-high mound.
The memorial will be officially dedicated by Countess Mountbatten, whose father Lord Louis Mountbatten ordered the creation of the COPP unit.