New bishop of Portsmouth appointed for diocese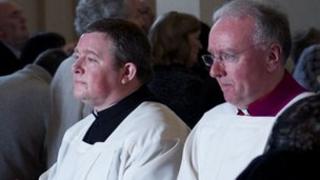 A new Catholic bishop for the diocese of Portsmouth has been appointed.
Monsignor Philip Egan will become the eighth Bishop of Portsmouth when he is ordained at the Cathedral Chuch of St John the Evangelist on 24 September.
He said he was "looking forward with joy" to his new appointment and to working within the diocese.
Bishop-elect Egan, 56, succeeds the Rt. Rev. Crispian Hollis, who is retiring from the post following his 75th birthday in November 2010.
He joins the Portsmouth Diocese, which covers Hampshire, the Isle of Wight, the Channel Isles and parts of Berkshire, Dorset and Oxfordshire, from the Diocese of Shrewsbury.
His current position of Vicar General, for an area covering sections of Merseyside, Greater Manchester, Derbyshire, Cheshire and Shropshire, is the second highest position in his diocese.