Museum starts appeal to buy the Portsmouth Fly painting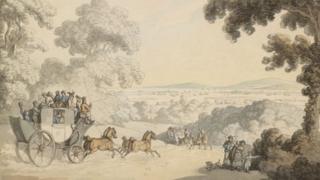 A museum has launched a fundraising appeal to buy a rare 18th Century painting showing its city.
Portsmouth City Museum want to raise £18,000 to buy a watercolour by Thomas Rowlandson called the Portsmouth Fly.
The painting shows a stagecoach racing towards Portsmouth, with Portsea Island and Southsea Castle in the background.
The museum wants to add the piece to its collection of five other works of his in its collection, which feature the Portsmouth area in the 1790s.
Rosalinda Hardiman, from the museum, said: "Rowlandson has managed to include a tremendous amount of local and human interest."
It is currently owned by a private collector.