Buckler's Hard excavation begins on former WWII site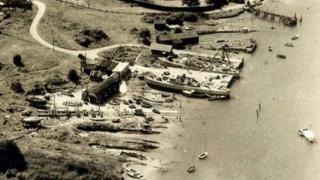 Archaeologists and volunteers are hoping to uncover evidence of World War II activity during an excavation in the New Forest.
Buckler's Hard village was the base for building dummy landing craft for an enemy deception operation.
The waterfront site was also used as a major departure point during the D-Day landings.
The week-long dig at Buckler's Hard waterfront on Saturday is part of The Festival of British Archaeology.
Operation Quicksilver
Project manager James Brown said the village became the base for Operation Quicksilver.
"It was a deception plan in which dummy landing craft were built for mooring on rivers and harbours in the south east," he said.
"This was to fool the Germans into thinking any invasion would take place in the area around Calais.
"It is hoped that the dig will establish the presence of World War II activity through the digging of several trenches and survey work on the concrete slipway and waterfront."
The excavation finishes on Sunday 22 July and is a joint project between Wessex Archaeology and the New Forest National Park Authority.