Isle of Wight boat fall boy badly injured by propeller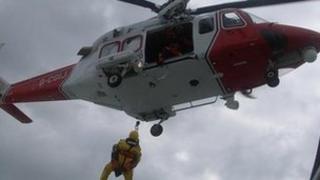 A teenage boy suffered life-threatening injuries after being hit by a propeller when he fell from a boat.
He was one of two boys injured after they fell into the sea off the Isle of Wight.
The badly injured boy was flown by the coastguard rescue helicopter to Southampton General Hospital.
The other, aged 14, suffered serious but not life-threatening injuries and was taken to a hospital on the island by lifeboat and ambulance.
Solent Coastguard was alerted after receiving a 999 call at 16:50 BST.
Four people were on board the rigid inflatable boat when they raised the alarm to say they had got into trouble off The Needles.
The coastguard rescue helicopter was already airborne on exercise and was quickly on the scene along with the Yarmouth RNLI lifeboat.
The less severely injured boy was taken to St Mary's Hospital in Newport.
The other two passengers, another teenager aged 14 and a man, did not fall into the water and were unhurt.
The relatives of the injured boys have been contacted.
Police are investigating the circumstances surrounding the incident.