London 2012: Lavender harvested for Olympic victory bouquets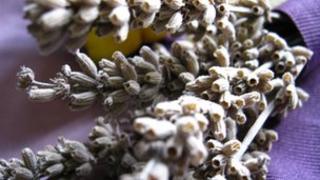 A farm in Hampshire has started harvesting stems of lavender to be used in the bouquets presented to the winners at the London Olympics.
Long Barn Lavender near New Alresford is preparing 300,000 stems to be used by the florist Jane Packer.
She is combining it with a variety of British roses and traditional herbs to make 4,400 floral bouquets.
Director Richard Norris said producing that quantity of lavender in time had seemed like a daunting task.
The company harvests the Royal Purple variety in the field by hand using traditional sickles.
Because of the wet weather, staff were concerned it would be difficult to provide the lavender in time for the Olympics because it was coming into colour later than expected.
But Mr Norris said the recent improving weather meant the plants were looking good.
He added: "To think there is an international event taking place and here we are in the middle of a field near Winchester and this lavender that I've grown is going off to be in the winners' bouquets - I think it's a great story."