Southampton City Council objects to biomass power station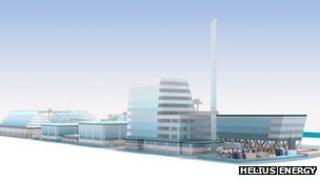 A proposed £300m biomass power station in Southampton has been opposed by the city council.
Helius Energy wants to build the wood-fired plant in Southampton's Western Docks, but a councillor has branded it an "enormous eyesore".
Richard Williams, leader of Southampton City Council, said: "We are sending a clear signal that Southampton does not want their proposed power station."
The company said the 100-megawatt plant would generate power for 200,000 homes.
It moved the intended site 125m (410ft) further away from homes and amended its design, in response to opposition.
But Mr Williams, of the Labour-run council, said: "This project is simply too big, too close to people's homes and too ill-thought out to go ahead as developers want.
"They have not committed to bringing any benefit to local people and businesses affected by the power plant - such as the potentially free heat and energy that could be supplied locally from its processes.
"Unless they can address questions about air quality, impact on the environment and the reuse of waste heat and power generated on site, we will continue to object to this enormous eyesore being built in our city."
A holding objection was unanimously agreed by the planning and rights of way panel.
In April, protest group No Southampton Biomass handed 150 objection letters and a 3,602-signature petition to Helius Energy and the city council.