Man survives gas cooker explosion in Southsea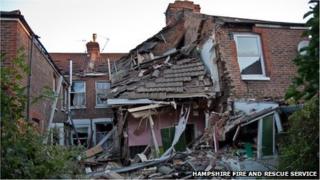 An elderly man escaped unhurt from a large explosion caused by a gas cooker left on overnight in his house in Hampshire.
Fire crews were called to Welch Road in Southsea shortly before 04:00 BST following a report of a loud explosion.
There was no fire but 50% of the rear of the terraced property was destroyed and there was "significant structural damage" to the front of the house.
The man, in his 90s, was not hurt and was carried to safety by firefighters.
Eight surrounding properties were evacuated and the man was taken to hospital to be checked over.
Station manager Dave Smith said: "The man usually sleeps in the back of the house but was asleep in the front room on the ground floor of the property at the time of the explosion.
"Had he been in the back of the house it could have been a very different outcome.
"The explosion caused not only caused major structural damage to the elderly man's house, but also the dividing walls to the adjacent properties.
"Our crew was able to quickly assess the scene, help the man to safety and isolate the gas supply.
"This is a very stark reminder of the dangers gas can cause.
"People should always check any gas appliances or cylinders are fully turned off before they go to bed or leave their house."