Portsmouth sea rescue missing man search called off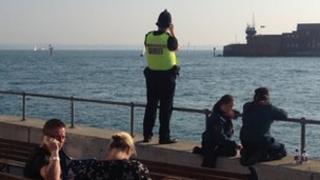 A search for a man who disappeared while helping to rescue two children from the sea at Portsmouth has been called off.
The 33-year-old and another man entered the water near the Portsmouth Harbour entrance, on Thursday afternoon.
The two youngsters, aged four and 10, and the other man made it safely back on to dry land.
Natalie Lock, the mother of one of the children involved, said her "prayers go out" to the missing man's family.
A coastguard spokesman said a shoreline search was conducted from 05:00 BST and as nothing was found, search teams were stood down.
The men had gone into the water at about 15:45 BST when the two girls got into difficulties near Tower Street.
Ms Lock, from Portsmouth, said she was "devastated" by the events which unfolded very quickly when the children were playing in the water.
She said: "The current started getting really strong. My other daughter came over and said the kids needed help - we ran over and they had just gone.
"There was people in the water, it was just crazy.
"I just want to thank them so much and appreciate everything they've done and my prayers go out to their families.
"I can't believe what's happened."
Police, coastguard, Royal Navy and lifeboat personnel carried out an intensive search into Thursday evening.
The search around Camber Docks and Old Portsmouth was temporarily called off at 22:00 due to bad light.
During the search, a Solent Coastguard spokeswoman said: "The man was last seen in the water close to the Square Tower, which is pretty close to the harbour entrance.
"There are very strong currents, deep channels, ferries in and out and all sorts of traffic."