Portsmouth University buys extinct animal DNA bank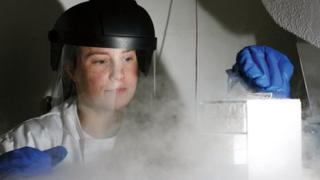 A tissue bank which stores the frozen DNA of threatened and extinct species has been acquired by the University of Portsmouth.
The Frozen Ark preserves thousands of living cell samples containing the DNA of species from around the world.
The samples are stored in liquid nitrogen vapour at around -186C.
The Ark was previously held by the Zoological Society of London. It contains species extinct in the wild such as the Socorro Dove.
Wealth of information
The university's Dr Rhiannon Lloyd said: "The Ark contains a wealth of information about species which might otherwise be lost forever."
She said that in the future cells could be cloned to stop animals from dying out.
"In principle, the cells could be used to re-create species using the same cloning techniques that have been used on common animals such as sheep and cattle," she said.
"The preserved cell samples contain a DNA blueprint of the animal and if they are frozen under the right conditions then we can use them to generate offspring.
"But in reality we're still a long way off from being able to use today's cloning techniques to resurrect species from the past, as cell viability isn't the only important factor."
The collection held by the university is part of the larger international Frozen Ark project. Currently 19 institutions are involved in the scheme, holding around 48,000 samples from some 5,500 animals. Most samples are donated by zoos.