Tribute to Portsmouth sea rescue 'hero' Marco Araujo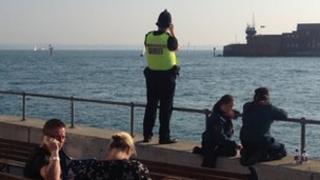 The partner of a man who disappeared while helping to rescue two young girls from the sea at Portsmouth described the event as her "worst nightmare".
Marco Araujo, 33, of Grafton Street, Portsmouth, was last seen in the water near Tower Street on 26 July.
Mr Araujo's partner Tracey Hall described him as a "hero" and said she had lost her "soulmate".
The two youngsters who Mr Araujo went to save, aged four and 10, and another man made it safely back on to dry land.
A search was launched to find Mr Araujo but he has not been found.
'No hesitation'
Ms Hall said: "A lovely family day turned into my worst nightmare, which I cannot wake from.
"My three-year-old grandson and I watched Marco go into the sea to save lives. There was no hesitation from Marco.
"I have lost my partner, my best friend and my soulmate.
"To everyone you are a hero, but to me, you were my life. What you showed to everyone by your heroic actions, I already knew.
"You will never be forgotten, you are my life - a fabulous dad, granddad, son, brother, uncle and friend.
"All who had the pleasure of knowing you are left with a big gaping hole in their hearts."
Mr Araujo and another man had gone into the water at about 15:45 BST when two girls got into difficulties.
Police, coastguard, Royal Navy and lifeboat personnel carried out an intensive search for Mr Araujo.
During the search, a Solent Coastguard spokeswoman said: "The man was last seen in the water close to the Square Tower, which is pretty close to the harbour entrance.
"There are very strong currents, deep channels, ferries in and out and all sorts of traffic."