HMS Daring back in Portsmouth after maiden deployment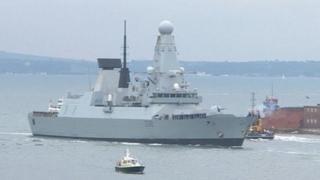 The largest destroyer warship ever built for the Royal Navy has returned from its maiden deployment to the Middle East.
HMS Daring is the first of six new Type 45 destroyers. It left Portsmouth, Hants, in January for the Middle East.
Earlier the £1bn ship came alongside at Portsmouth Naval Base to cheers from friends and loved ones of the crew.
It spent seven months conducting maritime security and counter piracy tasks in the area.
Commanding officer Capt Guy Robinson said: "This has been a most rewarding deployment where we have been able to explore Daring's capability in the challenging conditions of the Gulf.
"Unsurprisingly, there has been a lot of interest in the ship, particularly from the other navies we have worked with.
Different countries
"We have hosted a large number of visitors throughout the last six months and we have done much to raise the profile of Type 45 and the Royal Navy."
Daring, which is the first operational vessel of the six in the class ordered, visited a number of countries including Saudi Arabia, India, Jordan, Kuwait, Oman and the United Arab Emirates.
It also worked with the US Navy and its three aircraft carriers stationed in the region.
During the deployment, Daring travelled more than 34,642 nautical miles, spending 139 days at sea, and visited 12 different countries.
Daring was commissioned in July 2009, followed by HMS Dauntless, HMS Diamond and HMS Dragon.
All six new Type 45 destroyers, including HMS Defender and HMS Duncan, are scheduled to be in service by about 2015.