Peter Cox records song to help fund Sophie Roberts' cancer op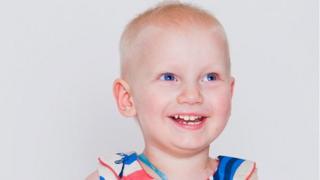 A single featuring 80s popstar Peter Cox has been recorded to raise £50,000 in a week to fund a cancer operation in the US for a two-year-old girl.
Sophie Roberts from Church Crookham in Hampshire has a rare and aggressive form of liver and lung cancer, which surgeons say is not operable in the UK.
Parents Andrew and Ruth Roberts raised £300,000 but were told recently by US surgeons the estimated cost may rise.
Single Shout It From The Rooftops was released in July and is available now.
'A privilege'
Donations have come from around the world and a recent feature on BBC South Today helped raise £60,000 in 24 hours, said Mr Roberts.
When his childhood friend Adam Pain heard about the story at a recent school reunion he decided to write a song with some of his colleagues at the Academy of Contemporary Music (ACM) in Guildford.
A staff member who drums for 80s band Go West on tour got in touch with frontman Cox to see if he could get involved.
Shout It From The Rooftops, which comes with a Youtube video, was recorded with Cox as one of three vocalists.
"It's a privilege to be invited to contribute to Sophie's cause and to work with such a fantastic team of musicians, singers and engineers," he said.
"We all hope we can help get the lovely Sophie well so that she can live a long, happy life."
Mr Pain said he hoped the bid to raise £50,000 in seven days was achievable.
"It is quite a task but the goodwill of everybody has been incredible," he said.
'Blown away'
Mr Roberts said the family fly out from Heathrow on Sunday and the operation at the Memorial Sloan-Kettering Cancer Center in New York is on Thursday 9 August.
But surgeons may decide the operation needs to be split in two in order to operate on each lung separately, which would take the total needed to £350,000.
Sophie was diagnosed in June 2011 with liver cancer - Hepatoblastoma - which had spread to her lungs.
Her family were told she had only a 30% chance of survival.
Mr Roberts said the donations from people around the world was "overwhelming".
One South Today viewer anonymously donated £5,000 he said.
"We've been so touched and it makes it much easier to deal with this when you've got such support.
"We've just been blown away".