Southampton biomass plant referendum hits legal problem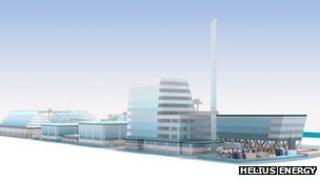 A proposed referendum on whether a biomass plant should be built at Southampton's Western Docks has run into legal problems.
Southampton City Council had planned to hold the poll alongside voting for a police commissioner in November.
The council has since discovered the votes cannot be held side-by-side because the commissioner poll is not being run under electoral legislation.
The authority is now seeking for the legislation to be reviewed.
Residents in the Freemantle and Millbrook wards of the city were due to be asked whether they supported the construction of the £300m Helius Energy plant near their homes.
In November, residents across England and Wales will also be asked to vote for Police and Crime Commissioners, which will replace police authorities and will have control over force budgets.
Running the biomass referendum alongside the commissioner poll would have saved on administration costs.
Council leader Richard Williams has asked government minister Grant Shapps to revise Section 15 of the Representation of the People Act 1985, which would allow the two votes to take place at the same time.
'Feed debate'
Richard Ivory, head of the city council's legal services, said secondary legislation would need to be passed to allow the tandem vote to go ahead.
He added: "I am conscious that time is against us unless this is undertaken by the government very shortly."
The council previously said the result of a biomass referendum would not be legally binding but would "feed into the debate" and help democracy.
Mr Williams branded the wood-fired plant as an "enormous eyesore".
A planning application is due to be submitted in the autumn.
The elections for police commissioners are being held under the Police Reform and Social Responsibility Act 2010.
In April, protest group No Southampton Biomass handed 150 objection letters and a 3,602-signature petition to Helius Energy and the city council.