Voyage of Recovery for addicts leaves Portsmouth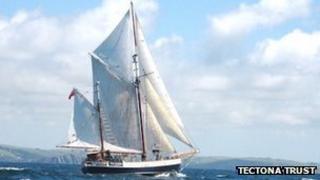 A traditional sailing ship crewed by recovering alcohol and drug addicts has left Portsmouth on a trip around the coast of Britain.
During the 12-week "Voyage of Recovery" more than 100 addicts will learn how to sail the 80-foot gaff ketch Tectona.
The 1,800-mile (2,897km) trip has been organised by the Phoenix Futures and the Tectona Trust charities.
Experts at Plymouth University are studying how the voyage helps crew members recover from addiction.
One of those behind the project, Darren Long, first went on Tectona while he was being treated for substance misuse at the Phoenix Futures' centre in Droxford, Hampshire.
"It's changed my life, and if I look at others who sail on the boat, they get momentum in life and it helps them find the direction they want to go.
"I think there is a lot to be said for sail training," he said.
Those taking part are drawn from Phoenix's addiction treatment centres across the country.
Tectona was built in India in 1929 and is now owned by a trust to give sail training to people with mental health and addiction problems.
Duties on board during each five-day leg include navigation, manning the sails, hauling up anchor as well as preparing meals and keeping the ship clean.
The £70,000 cost of the trip is being met through fundraising efforts.
The three-month schedule includes calls at ports including Milford Haven, Holyhead, Liverpool, Glasgow, Peterhead, North Shields, Ipswich, London and Portsmouth.