Hampshire fatal crash wrong way driver, 90, avoids jail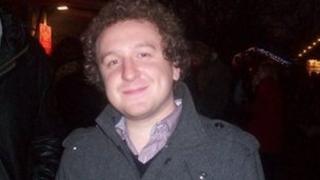 A 90-year-old man who caused a fatal crash when he drove the wrong way down a dual carriageway in Hampshire has been spared a prison sentence.
Retired GP Dr Turner Waddell received a nine-month suspended sentence after admitting causing death by careless driving.
Neil Colquhoun, 28, from Hook, was killed in the crash on the A30 at Old Basing on 11 March 2011.
Winchester Crown Court heard the doctor had failed an eye test the day before.
Mr Colquhoun's family have called for all older drivers to be re-tested.
The court heard that Waddell was driving to a concert from his home in Andover Down with his wife when he turned on to the A30 near Old Basing.
'Too afraid'
He drove for about a mile the wrong way at 60mph in the fast lane along the dual carriageway while other motorists flashed their lights and beeped their horns.
The court heard that Mr Colquhoun's Vauxhall had just overtaken a BMW on the eastbound carriageway, along with another car in front of him and that vehicle had just got back into the slow lane when Waddell's Volvo came around a bend and the collision occurred.
Mr Colquhoun's car then hit another car and burst into flames.
He was killed by the collision and not the fire, the court heard.
Speaking outside court, Mr Colquhoun's mother Patricia said the doctor should not have been behind the wheel.
"When a driver reaches 70 all that he or she has to do is complete a form to say that they are medically fit and a driving licence is issued for another three years," she said.
Driver confused
"Though I acknowledge that there are many safe elderly drivers on our roads there are some who are not, and families are sometimes too afraid to confront their elderly relatives as to their failing abilities.
"Through this lack of foresight my son, who had a wealth of friends and family who loved him dearly, and who had just started a new job with such high hopes and plans for the future, has been so cruelly robbed."
Waddell, now living in Porthcawl, near Bridgend, and his wife were also seriously injured and were dragged from their car by other motorists.
Neil Sawyer, prosecuting, said Waddell's recollection of what happened was "hazy" and he had been confused due to a subdural haematoma - bleeding on the brain - prior to the crash.
Judge Keith Cutler also disqualified Waddell from driving for life.
He said that Waddell's eyesight was very worrying and if there was a message to come out the tragedy it was that doctors and relatives "look very, very carefully whether elderly people can drive".