Cowes Week sailing regatta 'boosted' by Team GB factor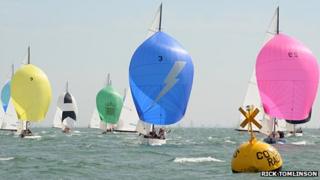 The success of the Team GB Olympic sailing team has boosted the profile of the sport and that of Cowes Week, organisers of the event have said.
The sailing regatta has attracted up to 8,000 competitors to the Isle of Wight and has drawn crowds of about 100,000.
Michelle Warner, of Cowes Week Ltd, said: "The Olympics have been brilliant for the sport and have stirred something in the British public."
Organisers said they were unable to say yet if numbers were up on last year.
Miss Warner said: "We haven't got any official figures yet and because it's not ticketed it's difficult to say whether spectator numbers are up.
"But from what I've seen on social media networks there's a lot more interest in the sport thanks to the success of our Olympic sailors."
'Better position'
Olympic sailors Hannah Mills and her teammate Saskia Clark, who won silver in the 470 class, were guests at the regatta, along with Luke Patience, who won silver with Stuart Bithell, also in the 470 class.
"We've also entertained the Duke of Edinburgh, who was here on private business and Zara Phillips (who won silver in equestrian team eventing)," Miss Warner added.
Aberdeen Asset Management, the global investment management group, has signed a seven-figure deal to sponsor Cowes Week, until 2015.
The event was previously without sponsorship for three years after its 14-year deal with Southampton-based finance company Skandia ended in 2008.
Miss Warner added: "When we were without a sponsorship title we had to make cost savings so we're in a better position as a result now."
The final day of racing at Cowes week will be on Saturday.