Body of Aldershot soldier Matthew Smith repatriated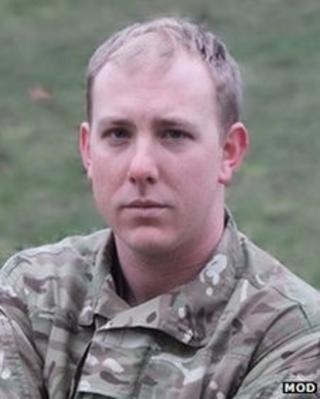 The body of a soldier killed on duty in Afghanistan has been repatriated into the UK at ceremony at RAF Brize Norton in Oxfordshire.
L/Cpl Matthew Smith, 26, of the Royal Engineers Born was born in Hong Kong and grew up in Aldershot, Hampshire.
He was shot on 10 August while trying to build a checkpoint in the Nad-e Ali district of Helmand province.
His mother Caroline Smith described her son as a "hero".
L/Cpl Smith's body was repatriated along with the bodies of Lt Andrew Robert Chesterman, of 3rd Battalion The Rifles, and Guardsman Jamie Shadrake, of the Reconnaissance Platoon, 1st Battalion Grenadier Guards.
His family attended a private ceremony on the air base before the cortege left via the Britannia Gate on its way to the John Radcliffe Hospital in Oxford.
The hearses were escorted at walking pace past the memorial garden in Carterton, where the Union flag was hung at half-mast and 26 Royal British Legion standard-bearers slowly lowered their flags.
Spontaneous applause
A group of L/Cpl Smith's friends wore West Ham United t-shirts with "L/Cpl Matt Smith, RIP Our Hero" on the back.
As the cars pulled away there was a spontaneous round of applause by members of the public who came to pay their respects.
Nicknamed Smudge, L/Cpl Smith became a soldier in January 2003 and joined the Corps of Royal Engineers in September of the same year.
Since his deployment to Afghanistan with the 30 Armoured Engineer Squadron, 26 Engineer Regiment on 16 March this year, he supported 1st Battalion The Royal Anglian Regiment as a section second in command, crane operator and driver.
Staff Sergeant Paddy McDermott, who worked with L/Cpl Smith, in Afghanistan said it had been a "privilege and honour" to have served with him.
He said: "Straight away I noticed he was a natural leader and one of the guys I would turn to if I needed a job doing quickly and correctly.
"His character made him stand out from the crowd. When I asked him once what his name was, he said "Lance Corporal Smith RE, bit of a ledge, done a bit, I'm surprised you haven't heard of me"."
'Pure morale'
Corporal Rob Taylor, Section Commander, 30 Armoured Engineer Squadron, 26 Engineer Regiment, said: "Smudge RE is one of the best men I have ever met. He was the most popular man in the Squadron and probably the Regiment.
"He was pure morale, able to make everybody around him happy. He saw the bright side to everything and dragged the rest of us along with him into his sunny world.
"He never stopped talking about his fiancée and kids, and was so proud and happy about his family. My thoughts and prayers go out to his fiancée Laura and their four kids: Lainie, Tilli, Ella and Jai."
There have now been 425 British forces personnel or MoD civilians killed while serving in Afghanistan since the start of operations in October 2001.