Isle of Wight hosts 2012 powerboat festival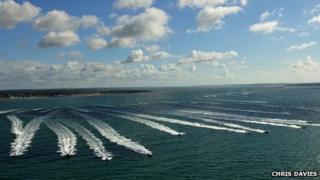 More than 40 boats have competed in the Cowes Classic 2012 Powerboat Festival at the Isle of Wight.
Two traditional races, the 182-mile Cowes-Torquay-Cowes, and the 59-mile Cowes-Poole-Cowes, got under way earlier.
The horsepower of the boats ranged from 150hp up to 2,000hp, with some having a single engine, and others two or more.
The boats, which had a crew of at least two, are capable of speeds of more than 100km/h.
The event was organised by the British Powerboat Racing Club.