Evey Staley family tribute after fatal Isle of Wight crash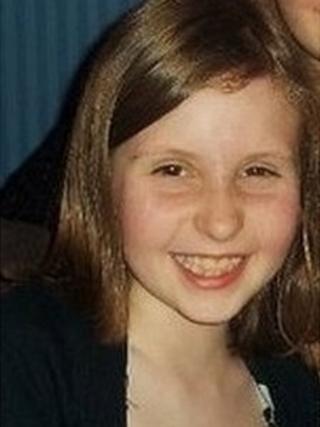 The family of a 10-year-old Isle of Wight girl who died in a road crash have described her as a "popular and strong-willed young girl".
Evey Staley was with her parents in a Subaru on the A3020 Cowes Road in Newport at 20:30 BST on Friday when it was in collision with a Ford Puma.
A statement issued through Hampshire police said: "She had a happy, bubbly nature and an infectious smile."
The 30-year-old Puma driver, from Sandown, was arrested.
He also suffered serious injuries and received treatment at St Mary's Hospital on the island.
The family statement said Evey's interests included history and netball and she had wanted to become a police officer.
"Evey's quirky sense of humour kept us all laughing and her passion for baking meant we were never short of homemade treats," the statement said.
"Evey, being the young lady she was, loved shopping, fashion and more importantly chocolate.
"Her loveable and cheeky personality made her adored by everyone she met."
Her parents were injured in the collision and continue to be treated at the intensive care unit at Southampton General Hospital.
Head of Ryde Junior School where Evey attended, Howard Edwards, said she was a "delightful and popular" pupil.
"Evey not only worked hard but she enjoyed all the other aspects of school life, particularly sports," he added.
"We have been blessed to have had Evey in our school and she will be greatly missed by all."