Recovery of HMS Hood's ship's bell abandoned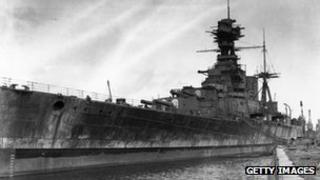 An attempt to recover the bell from a sunken World War II battlecruiser has been called off because of bad weather and deep currents.
HMS Hood has been at the bottom of the Denmark Strait between Greenland and Iceland since it was sunk by the Bismark on 24 May 1941.
The operation to retrieve the bell was called off on Monday after 10 days.
If recovered, the bell will be put on display at the National Museum of the Royal Navy, Portsmouth, in 2014.
The project has been sponsored by US philanthropist Paul G. Allen, whose 414ft luxury yacht Octopus was being used in the North Atlantic mission.
'Try again'
Crew working on the Octopus laid wreaths to honour the 1,415 naval personnel from around the world who had been on board HMS Hood when it sank.
Mr Allen said: "I was honoured to be involved in this project, and I stand ready to help the Royal Navy try again in the future.
"Recovering this bell is a way to commemorate the hundreds of brave sailors who were lost at sea, and I want to see it through."
HMS Hood Association president Rear Admiral Philip Wilcocks, whose uncle was among those killed on board HMS Hood, said: "While hugely challenging conditions have precluded a successful recovery of HMS Hood's bell on this occasion, the Hood Association continues to hope that another attempt will be made at some stage in the next year or so.
"Our objective remains the provision of a unique memorial in the National Museum of the Royal Navy for this iconic warship and her gallant crew."
'Largest vessel'
Shipwreck investigation company Blue Water Recoveries found the wreck 2,800m (9,200ft) underwater in 2001 resting on the seabed away from the ship's hull.
The government has licensed the recovery of the bell, with an MoD spokesman saying as well as providing a memorial, the recovery will prevent it being taken by any illegal operation for personal gain.
Portsmouth-based Hood was the largest ever Royal Navy vessel to have been sunk.
It was the biggest loss of life ever suffered by any single British warship and a major shock during the war. Only three people survived.
It was the flagship of the fleet and part of a force ordered to engage the Bismarck off Greenland, which was finally sunk on 27 May 1941, three days after the sinking of HMS Hood, in a mission involving Royal Navy ships, Fleet Air Arm aircraft and Royal Air Force flying boats.