Robert Sebbage murder: Zakynthos taxi driver found not guilty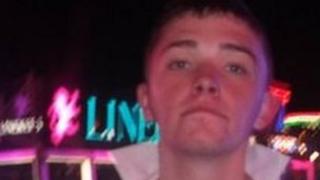 A Greek man who stabbed a Hampshire teenager on the island of Zakynthos has been cleared of his murder but convicted of a lesser charge.
Robert Sebbage, 18, from Tadley near Basingstoke, was killed and four of his friends were hurt during a night out at the Laganas resort in July 2011.
Stelios Morfis, 22, was found guilty of causing deadly bodily injury without intent and sentenced to 11 years.
Robert's father Andy, who was at the trial, said: "It's a disgrace."
Mr Sebbage, his wife Rhian and son Martin were present throughout the trial in the city of Patras.
Mr Sebbage said outside court: "I couldn't have stayed in there to see everyone slapping him on the back.
"I would have lost it. I would have had something to say then."
Morfis, a taxi driver, denied murder, saying he lashed out with a pocket knife after being taunted by a group of British youths.
England mascot
Robert had been on his first holiday without his parents with eight friends when he was killed on the group's last night out.
Having walked to a McDonald's restaurant for some food, they were attacked while sitting outside on the kerb.
Morfis was convicted of causing four of Robert's friends dangerous bodily injury without intent.
Another man, Dimosthenes Mylonas, 26, was charged as an accomplice but was found not guilty.
A verdict of unlawful killing was delivered by North Hampshire coroner Andrew Bradley at an inquest last October.
Following the trial, the Sebbage family issued a statement through the Foreign and Commonwealth Office, which read: "This has been an exceptionally difficult and traumatic time for us.
"Nothing will bring Robert back but we strongly believe that the sentence passed does not reflect the horrific and senseless killing of our son.
"We take solace from the fact that Stelios Morfis was found guilty of taking our son's life and attacking four of Robert's friends.
"We are also comforted that Robert's good character and reputation was acknowledged in court and that the other boys who were attacked were accurately represented as the victims of this violent assault."
In the statement, the family also paid tribute to the people and organisations in the UK and Greece who had helped them during the past 14 months.
Mr Sebbage was the mascot for an England friendly with Brazil in 2007, walking out on to the Wembley pitch alongside David Beckham.
It was England's first match at the rebuilt stadium.
The Reading fan was battling a rare bowel condition at the time.