Map produced for Isle of Wight Bestival traffic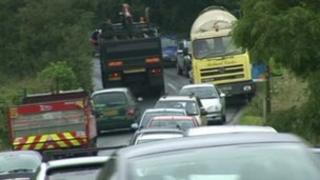 A special map has been produced to help the 50,000 people attending Bestival music festival on the Isle of Wight over the weekend.
Festival goers are encouraged to travel to the island as foot passengers, but 5,500 extra vehicles are expected.
The map on the council's website shows the designated routes for Bestival traffic, outlining areas local residents should avoid.
There will also be travel information provided on its social media sites.
The festival features Stevie Wonder, New Order, Sigur Ros, Florence and the Machine and The XX on the bill over the weekend, and a wildlife fancy dress theme.
Bestival traffic map
[483kb]
In June rain caused gridlock at the Isle of Wight Festival.
Traffic queues caused ferry companies to suspend their services and about 600 people were stranded on ferries on the Solent as the cars could not disembark because of backed-up traffic on the island.
'Welcome thousands'
The weather forecast for Friday and Saturday at Bestival is dry, with prolonged periods of sunshine.
Director for economy and environment at the Isle of Wight Council, Stuart Love, said: "We would encourage people to familiarise themselves with the designated routes for Bestival traffic and plan their routes to avoid them if possible.
"We are working closely with the partner agencies and ferry companies to minimise disruption to residents as we welcome thousands of people to the Island for this year's Bestival."
The sold out four-day event runs between 6-9 September at Robin Hill Country Park.