Hampshire police candidate Michael Mates 'should withdraw'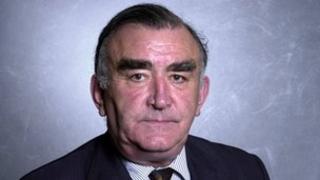 Hampshire's Conservative police and crime commissioner candidate is facing calls from within his own party to withdraw from the race.
Former East Hampshire MP Michael Mates was selected by the Tories in July but a row has broken out over money he received for giving up a rented flat.
Money was paid to several MPs living at Dolphin Square, Westminster, in 2005 but some repaid it.
Mr Mates has insisted he acted properly after seeking advice at the time.
Portsmouth city councillor Steve Wemyss said it would be "sensible" for Mr Mates to withdraw his candidacy, while Gosport borough councillor Graham Burgess said he should "stand down".
The row dates back to 2005 when the freehold to Dolphin House was sold by Westminster City Council to a private property company.
The council had been renting out the flats to dozens of MPs at a reduced rate - paid by taxpayers.
'Wealth of experience'
When the private firm bought the development it offered politicians money to give up their cheap deals, some said they were offered payments ranging from £8,000 to £48,000.
Mr Mates declined to say how much money he received, but said he used it to help fund a second home in London, which he still owns.
He said on seeking verbal advice from the House of Commons, he was told he could use the cash to help buy another property.
The House of Commons said there was no written record of the conversation.
Mr Mates said he was in the process of selling the second home and when it was sold he planned to take advice from the appropriate authorities and take any action necessary.
Elections are due to take place in November for police and crime commissioners who will replace police authorities in England and Wales.
Mr Wemyss, who represents Drayton and Farlington ward, said: "He, to be fair, may have a legitimate arrangement.
"I understand the parliamentary commission looked into the situation and found in favour of some cases and not in others but I'm not sure the parliamentary commission ever investigated Michael Mates.
"We should be putting forward candidates who should be beyond reproach. I think, in the circumstances, it would be sensible for him to withdraw."
Mr Burgess said: "The actions he has taken led to serious questions being asked as to his judgement and in my mind, and in the view of other people who have contacted me, we believe he should stand down."
Conservative MP George Hollingbery, who oversaw the party's selection process for the commissioner candidates, said: "Michael Mates was selected after a transparent process involving both the public and party members.
"Michael is a candidate with a wealth of experience in high public office and the party believes he will make an excellent first police commissioner."