Isle of Wight solo sail for cerebral palsy girl Natasha Lambert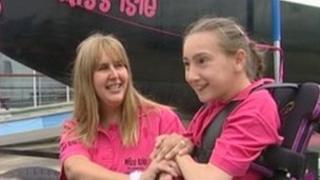 A 15-year-old girl with cerebral palsy has sailed solo round the Isle of Wight raising more than £8,000 for charity.
Natasha Lambert, from Cowes, has athertoid cerebral palsy which affects all of her limbs and speech.
Her 21ft-long (6.4m) boat, Miss Isle Too, was adapted by her father, Gary, and allows her to steer by sucking and blowing into a tube.
Natasha completed the 50-mile (80km) course on Sunday in 12 hours and 30 minutes.
'Epic journey'
Her mother, Amanda, said: "It was an absolutely awesome day.
"When she finished there wasn't a dry eye to be seen - even Natasha was crying with joy.
"We're all so proud of her fantastic achievement."
Natasha sailed in an anti-clockwise direction from Cowes round the island, via The Needles and on to St Catherine's Point.
Natasha, who started sailing when she was 12, has so far raised £8,224 for Isle of Wight Scope, Cowes RNLI Life Boat and the Ellen MacArthur Trust.
Mrs Lambert said Natasha had originally hoped to raise £30,000 for the three charities but admitted that figure was "possibly a bit ambitious".
She said her next challenge would be the Atlantic, which she described as "my ultimate dream".