Southampton biomass: Re-think call over referendum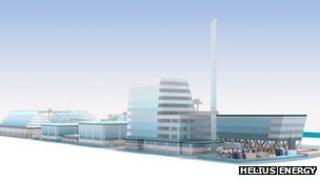 A planned referendum on proposals for a biomass power station at Southampton docks should be scrapped, campaigners have said.
Southampton City Council has proposed a local vote on energy firm Helius's plans for a £300m wood-fired plant.
However, No Southampton Biomass said the vote's £75,000 cost should be used on legal advice and fighting proposals through the planning system.
A council spokesman said no decision had yet been made.
Helius is due to submit a planning application for the 100-megawatt plant in Southampton's Western Docks later in the autumn.
The company says the plant would generate power for 200,000 homes.
'Stand alone' vote
Councillors from all parties have criticised the plans, with leader Richard Williams previously branding it an "enormous eyesore".
The Labour-run council planned to hold the local advisory referendum, asking people Freemantle and Millbrook wards if they supported the construction of the plant, alongside the police commissioner elections in November.
The result would not be legally binding but the council said it would "feed into the debate" and encourage people to engage in democracy.
The cost for the referendum was originally estimated at £5,000.
It later discovered the votes cannot be held side-by-side because the police commissioner poll is not being run under electoral legislation.
Having a "stand alone" vote with separate polling stations, staffing and counting could raise the cost of the referendum to up to £75,000.
In a statement, protest group No Southampton Biomass said the council had been "publicly outstanding in their support".
"We are also very aware of the tough economical times and are worried that £75,000 on something that ultimately won't affect the planning process may not be the wisest use of public resources and could actually cause negative publicity that would not be helpful to Southampton City Council or the No Southampton Biomass campaign," it said.
The council is due to discuss the referendum proposal at a meeting on Wednesday.