Monarch butterfly blown across Atlantic to Dorset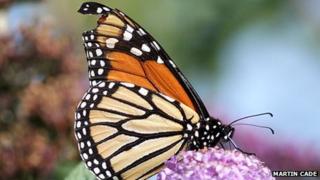 More than a thousand wildlife fans flocked to Dorset to see a rare monarch butterfly which was swept 3,500 miles across the Atlantic by Hurricane Isaac.
They were huddled around a bush in a Portland park after reports the striking orange, black and white butterfly was feeding.
Some of the twitchers had been in the region to see a rare short-billed dowitcher spotted in Weymouth.
They had travelled from as far as Cumbria and Scotland.
Experts believe the monarch butterfly - which has a four-inch wingspan - had been blown off course as it attempted to migrate from North America to Mexico.
Martin Cade, from Portland Bird Observatory, said: "It looks very tropical and exotic so it sticks out like a sore-thumb."
'X marks spot'
He believes bird-watchers gathering to spot the dowitcher then heard about the butterfly feeding about five miles away on a buddleia bush off Park Estate Road, in Easton, Portland.
Mr Cade said: "It was a case of x marks the spot so we had hundreds of people, with cameras, around the bush at various times over the weekend.
"It's a real draw because it's a big, exciting-looking thing, people keep saying they've never seen anything like it before as there is no bigger indigenous butterfly in the country."
Mr Cade said the butterfly, which has lost part of its left wing, would not be able to fly back to North America but believes it can survive in the UK.
He said: "It feeds on nectar out of buddleia bush so it's not going to run out of food in Dorset."
Another monarch butterfly was recently spotted on the Isle of Wight.
Dr Tom Brereton, head of monitoring with the Butterfly Conservation, based at Lulworth, said: "Well over 1,000 people have come to see this monarch butterfly over the weekend."