Portsmouth Spinnaker Tower external lift removed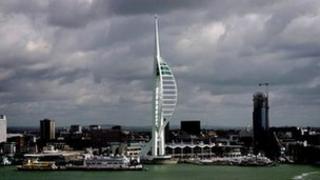 A glass lift on Portsmouth's Spinnaker Tower is being removed following repeated problems.
The external lift on the 558ft (179m) attraction has not worked since the tower opened in 2005.
Having been beset by repeated technical difficulties, owners Portsmouth City Council and operators Continuum Leading Attractions, have agreed on removal.
Engineers began the work on Monday and are expected to finish in December. The internal lift remains in operation.
City council leader, councillor Gerald Vernon-Jackson, admitted it was time to "cut losses" on the lift and its repeated problems.
He said: "Unfortunately, we have never been able to get the external lift to work.
"Probably almost every lift expert in the country has worked on it at one time or another. We've decided there's no point in pouring good money after bad."