Southampton biomass: City council stops referendum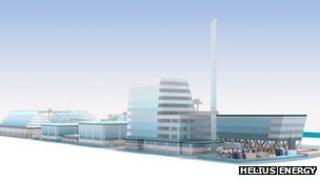 A planned referendum on proposals for a biomass power station in Southampton has been stopped.
Southampton City Council cited soaring costs and unnecessary government red tape for the decision.
Helius Energy plans to construct a £300m wood-fired plant at the city's docks, which it says will generate power for about 200,000 homes.
The city council wanted to hold the referendum alongside Police and Crime Commissioner elections in November.
But, under current rules, the referendum would have had to have been run as a "stand alone" poll with separate polling stations, officers, clerks and supervisors.
Having been originally estimated at £5,000, a "stand alone" poll would have raised the cost of the referendum to £70,000.
'Common sense approach'
Councillor Richard Williams, leader of the city council, had written to former Housing and Local Government Minister Grant Shapps MP to request the current rules be changed.
He asked the minister to consider passing secondary legislation allowing the city council to hold the referendum alongside the Police and Crime Commissioner vote.
"It's disappointing the government hasn't seen fit to make the changes, but I will continue to push for a common sense approach to this, an approach that will save taxpayers money down the line," he said.
"The council cannot afford the soaring costs and they could have been almost completely avoided had the legislation been more carefully drafted in the first place."
The Department for Communities and Local Government said it would continue to review the current rules on "stand alone" polls.
Power plant opponents No Southampton Biomass had called for the vote to be scrapped, saying the money would be better spent on legal advice and fighting proposals through the planning system.
Helius is due to submit a planning application for the 100-megawatt plant in Southampton's Western Docks later in the autumn.