Southampton underwater record attempt 'too dangerous' to continue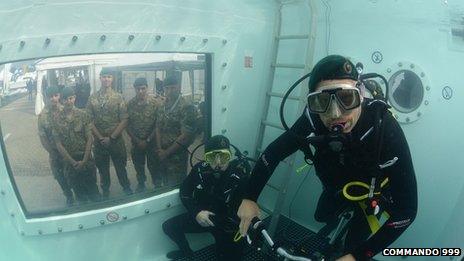 An attempt to set the world record for cycling 240 miles underwater in 24 hours has been halted after being deemed "too dangerous" to carry on.
Former marines Chris Sirett and Brian Stokes were suffering from nausea and dizziness, said organiser Mark Scoula.
They cycled 100 miles underwater on exercise bikes in 15 hours at the PSP Southampton Boat Show before stopping.
However, the pair are believed to have set a world record for the furthest distance cycled under water.
Mr Scoular said: "As with any world record attempt as physically demanding as this, safety is always a priority.
"So, at 3:38am after a solid 15 hours underwater, the attempt was bought to an end after being deemed too dangerous to continue by the safety team.
"The divers were light-headed and suffering from vomiting and nausea."
Mr Scoular said it is believed Mr Sirett, 54, and Mr Stokes, 40, have set the record for the furthest distance cycled underwater.
"They have raised thousands for the Royal Marines Association and we are very proud of them," he said.
The money raised on behalf of the Royal Navy Commando emergency services charity Commando 999 will go to the Royal Marines Association.
Related Internet Links
The BBC is not responsible for the content of external sites.