Chinese business delegation visits Slough and Bracknell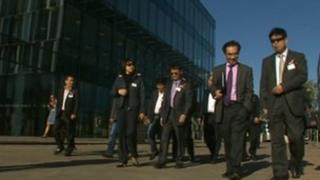 Businessmen and women from China are visiting Berkshire to investigate investment opportunities.
Representatives of 100 Chinese companies are attending a series of events during the week-long visit.
It has been organised by the British Chambers of Commerce's Link to China partnership to showcase facilities in towns including Slough and Bracknell.
Link to China's Dr Kegana Wu said the visitors were "very impressed" but said air links to China should be improved.
UK businesses are taking part in seminars and one-to-one matchmaking events with the Chinese delegation in the hope of encouraging investment.
The delegation visited the Mandarin language centre at Wellington College near Crowthorn as well as the Slough Trading Estate.
Gareth Osborn, director of the estate's owners SEGRO, said they were "turning to the east" following the slowdown in investment from the US.
"There are some good news stories coming out of these links with China already.
"It's the innovation and technology sectors they want to tap into. Good companies gather round each other and thrive off the innovation in the Thames Valley," he said.
Dr Wu said: "It's about proximity to London and [Heathrow] airport so improving the airport does come into the equation of companies wanting to invest here.
"The current level of connection is not going to be able to match our potential working with [British] companies."