Portsmouth totem pole 'reincarnation' raised in Canada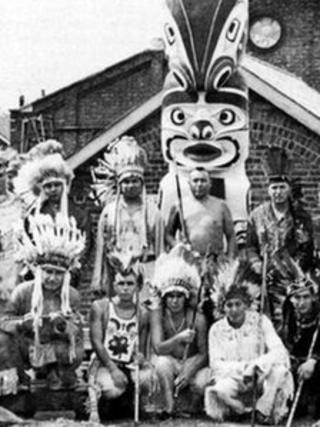 A totem pole, which is a replica of one which stood in Portsmouth for nearly 30 years, has been raised in a ceremony in Canada.
The first totem pole, named Hosquami, was erected at HMS Excellent on Whale Island in 1960 to mark the 50th anniversary of the Royal Canadian Navy (RCN).
Over time the pole decayed and was taken back to the land where it was carved, in keeping with the traditions of Canada's indigenous peoples - known as the First Nations.
A new Hosquami was commissioned by the Lieutenant Governor of British Columbia and has been raised to mark the Queen's Diamond Jubilee.
Among those attending the recent blessing ceremony at Government House in Victoria was Bill Shead, a retired RCN lieutenant commander.
As a 20 year-old sub lieutenant, he had volunteered to be part of the escort group bringing the 25ft (6m) high totem pole which weighed two tonnes, from Canada to Portsmouth on board HMCS Kootenay.
Carved from a single cedar log, it was a gift from the RCN as many of its sailors were trained at the gunnery school at HMS Excellent at Whale Island, Portsmouth.
'Whooped and hollered'
Lt Cdr Shead, a First Nations Canadian, remembers "quite amazing" scenes as incredulous crowds turned out to see the pole being transported through the streets of Portsmouth.
"In the day people didn't know that much about aboriginal cultures - they'd seen the 'Red Indians' in cowboy movies.
"I guess we had a reputation of being a little wild so we dressed up, painted our faces as we marched through the streets of Portsmouth.
"I was beating a drum and the others whooped and hollered," he said.
With spears made from mop handles decorated with seagull feathers, Lt Cdr Shead recalls how they injected "a little bit of Canadian fun and colour" into proceedings.
Hosquami had three figures carved into it; a speaker represented the training at HMS Excellent, a whale referred to the dangers of the sea and a thunderbird symbolised the navy hunting enemy ships.
"It was given because these are the things that bind the two navies together," said Lt Cdr Shead.
'Place of honour'
However Portsmouth's coastal climate took its toll on Hosquami. It was felled by the Great Storm of 1987.
A decision was made to return the heavily rotted pole to Canada so it could be "returned to the earth in a place of honour", Lt Cdr Shead said.
The new Hosquami has been carved with the same figures and is seen as the "reincarnation" of its predecessor.
Al McRobb, of the NATO Veterans of Canada organisation, said Hosquami is a "very important tribute" to native Canadian servicemen.
First Nations have fought alongside British forces since early in the 19th Century.
"I don't think there is a Canadian sailor who hasn't passed through Portsmouth at least once in his life," he said.
During World War II First Nations servicemen used native language for military communication as it could not be understood by the enemy.
The new pole at Government House in Victoria, the Queen's official residence in British Columbia, was carved by Chief Tony Hunt, whose adoptive grandfather Chief Mungo Martin carved the original.