HMS Edinburgh leaves Portsmouth on last deployment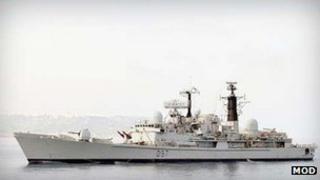 Royal Navy destroyer HMS Edinburgh has left Portsmouth on its final deployment.
It is the last of the Type 42 class to go on active operations before they are replaced by new-generation Type 45 destroyers.
Its sister ship HMS York is being decommissioned on Thursday.
The ships are being sold as part of the government's 2010 Strategic Defence Review, which will see the Royal Navy's surface fleet cut from 23 to 19 ships.
HMS Edinburgh is scheduled to work on counter-drug trafficking measures off west Africa before visiting the Caribbean and the US, returning to Portsmouth in March 2013.
The largest of the Type 42 destroyers built for the Royal Navy, it was launched in 1983 and served in the 2003 Iraq war. It underwent a £17.5m refit in 2010.
Commanding officer, Commander Nick Borbone, said: "HMS Edinburgh might be the last of the class but she remains a capable ship with a highly-trained and motivated ship's company that is determined to preserve the fine tradition that the T42s have established in 30 years of service.''