Southampton hospital mortuary opens for public tours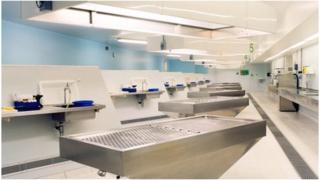 A Southampton mortuary is opening its doors to the public for the first time.
Visitors will be able to tour the general hospital's recently-refurbished department and talk to staff about their work.
A histopathologist will perform a virtual autopsy on a volunteer by making "incisions" with a marker pen.
Dr Meg Ashton-Key will then use animal organs and photographs of diseased human organs to demonstrate how examinations are performed.
A spokesman for the University Hospital Southampton NHS Foundation Trust said although the hospital had previously had open days, it was the first time the mortuary had been opened to the public.
'Fear barriers'
Visitors will also be able to go behind the scenes in more than 50 other areas of the hospital, including adult and neonatal intensive care units, operating theatres, the helipad and the Cancer Research UK laboratories.
Dr Michael Marsh, medical director at the trust, said: "The past three open days have proved not only to be fantastic, fun and exciting occasions for all the family, but also great educational experiences and a chance for us to really connect with people from across the city, region and even further afield.
"This year, by inviting people into the mortuary to meet staff and see how they work on a daily basis, we hope to continue the trend we have set of breaking through the barriers of fear associated with hospitals through real insights into all aspects of our work."
The open day is from 11:00 until 15:00 BST.