HMS Illustrious leaves Portsmouth for Mediterranean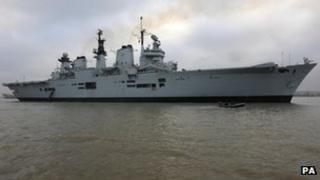 Royal Navy warship HMS Illustrious has sailed from Hampshire for a three-month training deployment in the Mediterranean.
The helicopter carrier left its home port of Portsmouth at as part of Exercise Cougar.
The annual exercise involves six ships, more than 20 helicopters and 3,000 troops which make up the Response Force Task Group (RFTG).
HMS Illustrious is set to be decommissioned in 2014.
Training, which also involves the French and Albanian military, starts with a beach assault by the Royal Marines in Cornwall until 9 October, before the entire RFTG force meets up in the Mediterranean later in the month.
The Ministry of Defence (MoD) announced last month it will preserve HMS Illustrious once it leaves service in 2014.
The Invincible Class ships - Illustrious, Invincible, and Ark Royal - will be replaced by larger Queen Elizabeth aircraft carriers which will enter service in 2017, the MoD said.
The RFTG was created under the 2010 defence review and is a rapid reaction force which deals with unexpected world events that require military intervention.
Last year is was deployed to support operations off Libya.