Environment Agency targets Hampshire fish poachers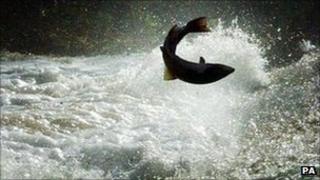 Poachers are being targeted by the Environment Agency (EA) after an increase in fish thefts and illegal angling in Hampshire's rivers.
An EA spokesman said there had been 10 reports of illegal poaching in the last two months - an increase of about 50%.
Officers have increased patrols at poaching hotspots along the River Itchen and River Test.
Illegal fishing equipment, including a spear gun, have already been seized. Poachers face fines of up to £50,000.
Tim Sykes, from the EA, said: "Recently we have received increasing reports from responsible anglers of unscrupulous individuals using illegal and dangerous equipment to catch fish.
"These methods have the potential to harm wildlife, seriously damage fish stocks and our natural heritage, and ruin the sport for future generations.
"The Environment Agency is committed to eliminating illegal fishing."
The agency has asked the public to report anything suspicious such as nets, traps or set-lines, or if they see someone shining a light into a river at night.
Shops can also be fined if caught selling rod-caught salmon and sea trout, as fish must be sourced from licensed fisheries.