Southampton City Council workers accept pay deal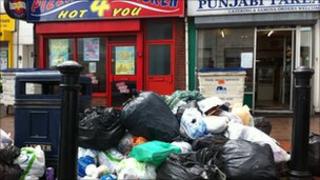 Union members have accepted a pay deal to end a long-running dispute with Southampton City Council.
Workers have called off all legal and industrial action after pay cuts imposed by the previous administration were reversed.
In March 2011 thousands of staff, including refuse collectors and social care workers, walked out - triggering months of industrial action.
Their pay will now be reinstated to match national pay rates.
The previous Conservative administration finalised budget cuts of £25m in February 2011. It said all workers earning more than £17,500, which is 65% of staff, would have their pay cut by reducing working hours.
It later revised the plans so those earning more than £22,000 would also lose up to 5% of their pay.
In response, unions initiated legal proceedings against the council, which they claimed was acting illegally by failing to consult both on the new contracts and on redundancies.
They only suspended industrial action, such as working to rule, in August when they agreed to ballot on the deal brought in by the new Labour administration.
Former Conservative leader Royston Smith said the measures would leave a hole in the finances resulting in job losses.
But Labour leader Richard Williams said the decision avoided a potential £12m legal bill in a court case it was likely to lose.
He added: "We are really happy that we've been able to move it forward because it was very corrosive and had resulted in the performance and morale of the staff falling through the floor."
New job losses
All staff will have their pay restored in stages phased in until 2015.
Unite members voted four to one to accept the proposals.
Mark Wood, from Unite, said: "This overwhelming endorsement brings to an end a most unfortunate episode in employee relations at Southampton City Council, caused by a Conservative administration intent only on slash and burn."
But Mr Smith said the unions had not behaved well.
He added: "Obviously they would vote for a pay rise but what the unions have not told their members is how many of their friends and colleagues will lose their jobs as a result of this vote."
The budget, which was due to be released on Monday, is now expected next month while the council waits on decisions made by government nationally.
It could be looking to at making savings of about £30m.
Mr Williams said: "There will be reductions, there is no dispute about that, but we are interested in working with the unions rather than trying to do things to them."