Southampton City Council could face £32m budget gap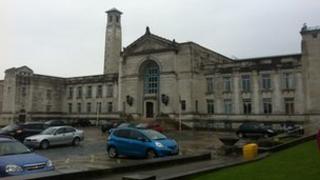 Southampton City Council has delayed publishing budget papers as it seeks to plug a budget gap as high as £32m.
Unions claim the authority will be forced to cut the largest number of jobs in its history as it faces a drop in central government grants.
The Labour-run council will announce its plans in November as it seeks to find more savings.
A Revenue Support Grant drop of 12.3% from central government could leave the city council with a £32m shortfall.
Communites Secretary Eric Pickles is yet to confirm how much funding councils will receive in government grants.
Unison claims job cuts will be "at least three figures", but the city council stressed it was not in a position to estimate any losses at this stage.
Branch secretary Mike Tucker admitted the growing budget deficit would leave the authority with a difficult choice to make.
He said: "These will be the largest number of jobs at risk in the history of the council. It will be devastating for those affected and the city of Southampton.
'Turn things around'
"We appreciate this decision is not being made lightly. Local authorities across the country are having to deal with the same situation.
"The previous Conservative council ran up huge debts in capital projects and despite the best efforts since May's election, there's still a long way to go to turn things around."
Councillor Simon Letts, cabinet member for resources, said: "Until we know what our funding will be, we're working with a potential budget gap between £27m and £32m.
"There's absolutely no way we can speculate how many jobs might have to be cut. These are real people, not a number."
The city council is expected to announce its draft budget proposals on 12 November.
Following a consultation period, it is expected to be agreed next February.