HMS Victory handed to First Sea Lord in Portsmouth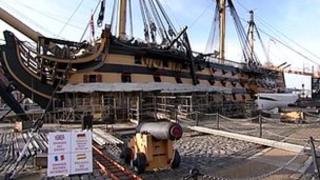 Nelson's flagship HMS Victory has been formally handed over to the first sea lord, at a ceremony in Portsmouth.
Admiral Sir Mark Stanhope hoisted his flag, taking over full command of the vessel from the second sea lord.
He said: "It is a great honour for me to hoist the flag of the first sea lord in HMS Victory."
It had been the flagship of the second sea lord and Commander in Chief Naval Home Command. Defence re-organisation has meant this title no longer exists.
The eight-decked ship has traditionally flown the current admiral's ensign since 1778.
"It reflects the increased role that the first sea lord now plays in the running of the Royal Navy from the headquarters in Portsmouth," Admiral Sir Mark Stanhope, said.
The ship was Lord Nelson's flagship at the Battle of Trafalgar in 1805.
It was retired from front line duty in 1812 and is anchored in Portsmouth Historic Dockyard where it operates as a living museum to the Georgian navy.