Jamie Dack murder: Gang tortured man and burnt body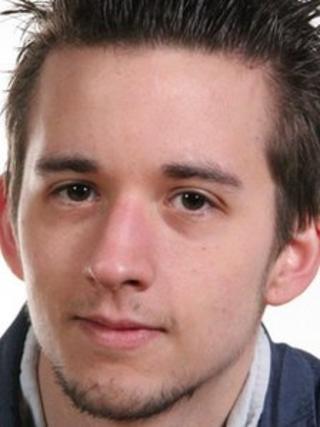 A gang used broken bottles and knives to torture to death a vulnerable young man before setting his body alight, a court has heard.
Jamie Dack, 22, was attacked in a Southampton squat over the Easter weekend and his body dumped in a bin.
The prosecution claims the group of four killed Mr Dack to steal his computer and cash so they could go out.
Ryan Woodmansey, 31; Andrew Dwyer-Skeats, 26; Lee Nicholls, 28, and Donna Chalk, 21, deny murder.
Winchester Crown Court heard how the gang met up with Mr Dack on 5 April and lured him to a flat where they were squatting.
They wanted to steal his laptop computer and debit card to pay for a rave in Bournemouth the next day.
During the Thursday afternoon and into Good Friday, Mr Dack was held in the flat.
'Degrading attack'
Christopher Parker QC, prosecuting, described it as "a vicious and degrading attack on a young, vulnerable victim".
He said: "Overnight Jamie was kept in the flat. He was never to leave it alive again."
The defendants "tortured him to death in the kitchen of the flat using fists and feet, stabbing him with broken bottles and kitchen knives - altogether as a group", he told the court.
The next day they wheeled Mr Dack in a wheelie bin before dousing his body in petrol and setting it alight in a bin on an industrial estate.
Firefighters found the burned remains on 8 April.
The three men admit perverting the course of justice by disposing of the body and setting it alight. Ms Chalk denies that charge.
The trial continues.