Southampton flash floods cause travel disruption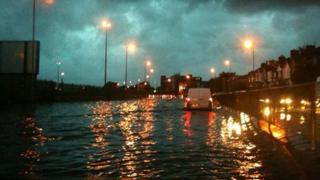 Flash flooding has caused travel disruption in Southampton.
Heavy rain on Wednesday evening left standing water on the A35 Mountbatten Way, leading to traffic gridlock.
The road had been closed during the morning rush hour following heavy overnight rain.
Southampton Airport was temporarily closed to planes landing due to the weather conditions late in the afternoon.
Forecasters said high spring tides and strong winds added to the flooding.