Isle of Wight Zoo's lion Snoopy is put to sleep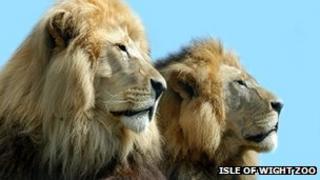 A 14-year-old African lion called Snoopy has been put to sleep following an operation on his tooth at the Isle of Wight Zoo.
A specialist vet was called in to repair a fractured canine but during the procedure discovered an aggressive form of mouth cancer.
The dominant lion, which has been at the zoo since it was 18-months-old, died on Thursday.
The director said the whole zoo had been affected by his loss.
'Very mournful'
Charlotte Corney said Snoopy and his brother Charlie Brown had spent every moment in each other's company since they came to the island from a safari park in Scotland.
She said the challenge would be to manage Charlie Brown's welfare as the two animals were inseparable.
She said: "Charlie Brown is very mournful and does not really understanding what is happening."
"The keepers are spending a lot of time with him and we think eventually we will place him with Nahla, our female lion, so that he has some company.
"The whole zoo feels a huge sense of loss because Snoopy had been so full of life and energy."
Ms Corney said that wild lions live until they are about 10 but in captivity they can live into the 20s.