Cockleshell Heroes plaque unveiled in Southsea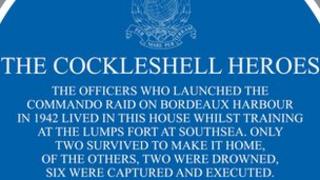 A memorial plaque has been unveiled at the former Hampshire quarters of a group of World War II heroes.
In 1942, 10 Royal Marine canoeists embarked on a mission to attach mines to enemy supply ships in Bordeaux.
Only two of the men, who became known as the Cockleshell Heroes, survived the operation by escaping to Spain across the Pyrenees.
The plaque has been installed on a house in Southsea, Portsmouth, where the officers involved were housed.
Portsmouth City Council leader Gerald Vernon-Jackson unveiled the plaque at the property in Spencer Road.
He said: "These people lived ordinary lives until they became involved in extraordinary times and their bravery was tremendous.
"It was a particularly daring raid and courageous raid and with its 70th anniversary this year it was important to remember."
A second plaque is also planned for a house in Worthing Road where the men lived while they prepared for their mission.
Four-day journey
The blue memorial plaques have been organised by Portsmouth City Council and the Royal Marines Association (RMA).
The plan for Operation Frankton had been for the canoes, each containing two men, to be dropped off by submarine before paddling the 60 miles (97km) upstream to Bordeaux.
Only two canoes managed to complete the four-day journey before successfully damaging six ships during the night of 11 December 1942.
Of the eight men who did not survive, two drowned and the remaining six were executed after being captured at various stages of the mission.
In 1955 a fictional version of the story was made into a film called The Cockleshell Heroes.
The council and RMA will be holding a ceremony on 4 November in the Eastney area of Portsmouth to mark the 70th anniversary of the raid.