Centenary of council houses in Portsmouth marked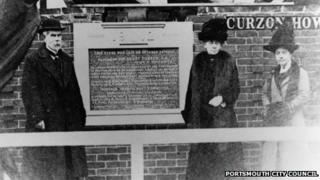 The centenary of the first council houses built in Portsmouth has been marked by a series of events.
New spacious homes in Curzon Howe Road, Portsea, replaced the slum dwellings of White's Row in 1912.
The city council's Bill Moody said they were a "massive improvement" for some of the poorest residents at the time.
An exhibition, plaque unveiling and a presentation by Groundlings Theatre Company were staged to mark the anniversary.
The 43 council-built houses in Curzon Howe Road were part of a wave of municipal building across the country in the late 19th and early 20th centuries.
'Infested with bugs'
They were intended to counter the unsanitary and overcrowded conditions Portsmouth had become infamous for.
Mr Moody said the old houses in Portsea were "badly constructed, damp and infested with bugs", leading to higher mortality rates than the rest of Hampshire.
After the White's Row buildings were demolished they were replaced by new cottage-style houses with 45ft gardens, flushing toilets and heated water.
"They were a massive improvement and proved very popular," said Mr Moody.