Yarmouth Bridge power cables cut during harbour dredging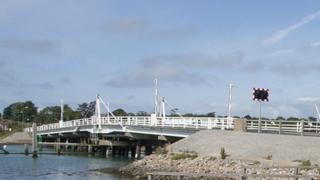 Power supplies to a swing bridge have been cut after contractors dredging Yarmouth Harbour accidentally cut through cables.
The bridge in Yarmouth, Isle of Wight, is usually swung open every hour during the sailing season to allow boats to enter the River Yar.
Isle of Wight Council has apologised to river users and said work to replace the cables was being carried out but would take time.
The bridge remains open to vehicles.
Peter Hayward, Isle of Wight Council manager for highways and transport, said: "The council is working closely with the harbour commission to make sure repairs are carried out as soon as possible.
"It is not a simple task to replace the power cables and requires specialist work including laying new cables on the harbour bed which will take time.
"I am sorry for this inconvenience to river users and hope to have power restored to the bridge as soon as possible."
The dredging work was being carried out on behalf of Yarmouth Harbour Commission.