Brain damaged boy in £5.8m Southampton hospital payout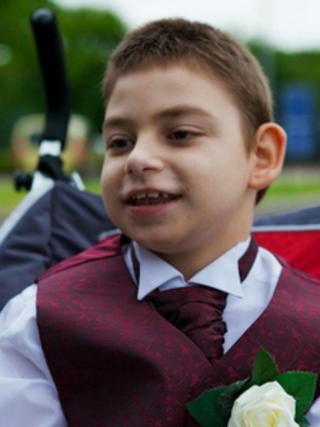 A boy left brain damaged when a hospital failed to identify a bowel condition when he was a baby has been awarded £5.8m to pay for future care.
Perry Evans, 10, of Portsmouth, suffered a ruptured gut weeks after his birth when staff at Southampton General Hospital failed to properly treat him.
The brain damage left him with cerebral palsy and learning difficulties.
Judge Mitchell at London's High Court approved the award against Southampton University Hospitals NHS Trust.
The family's counsel, Dr Simon Taylor QC, described Perry as a happy boy but said he was completely dependent on his family.
'Hospital apology'
He has to be fed by a tube and has a very limited vocabulary. He is also registered blind and is unable to walk or manipulate objects with his hands.
Dr Taylor said the care given to the boy by his family had resulted in him making considerable progress, particularly in helping him communicate.
The hospital trust apologised for the inadequacies in Perry's care and wished the family well.
After the hearing, the family's lawyers, Blake Lapthorn, said the award included a lump sum to buy suitable accommodation for Perry as well as annual payments for the rest of his life to purchase care and equipment.
Sue Jarvis, partner at Blake Lapthorn's clinical negligence team, said: "I am delighted that Perry has received such an excellent settlement, particularly bearing in mind that he has a reduced life expectancy because of the trust's negligence.
"I am pleased that the money will mean his family will be able to secure the professional assistance that Perry will need for the rest of his life."