Southampton Ford Transit union meeting over closure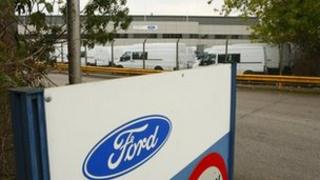 Union members at Ford's Southampton Transit factory will hold a mass meeting on Monday to discuss possible action over its closure.
The carmaker announced on Thursday it is to close the site next summer with the loss of about 500 jobs, along with part of its Dagenham plant.
Unite said members in Southampton felt betrayed and would put up a fight.
The city council has arranged an emergency meeting next week between local economic partners.
The authority is hoping to secure government funding to boost opportunities for those trying to find new jobs.
Ford said it hoped job losses could be met through voluntary redundancies and relocations.
'Guided by members'
Boss Alan Mulally blamed a "crisis in Europe" for a drop in sales. Production from Southampton is set to move to Turkey where workers are paid about £4 an hour.
Unite has accused the company of a "betrayal" after claiming the firm had promised a new Transit model for Southampton in 2014.
A Unite spokesman said: "[Ford] has previously made commitments to the future of Southampton, so we believe this to be a betrayal.
"There are no decisions on what our next steps will be, we will be guided by our members but we are determined to fight the closures."
The job losses are the latest in a line of cuts in Southampton from the likes of British Gas, Skandia, Vosper Thornycroft, B&Q, HSBC, British American Tobacco and the University of Southampton.
Leader of the council Richard Williams said: "What I have done yesterday was to call an emergency meeting of the local economic partnership... to see what we can do to access government funding.
"I happen to be in London on Monday and am hoping to speak to some members of the government about it."