Sandi Toksvig made Portsmouth University Chancellor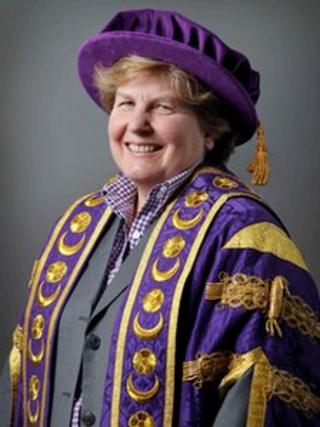 Broadcaster and author Sandi Toksvig has been installed as Chancellor of the University of Portsmouth.
She takes over from actress and author Sheila Hancock who retired after five years in the role.
Last year 54-year-old Ms Toksvig was awarded an honorary degree from the university in recognition of her work as a writer, broadcaster and comedian.
Ms Toksvig said she was "honoured" to become chancellor at the ceremony held on the university campus.
She wore a University of Portsmouth hoodie under her robes during the ceremony and joked that her height meant only Danny Devito or one of the Krankies could follow her as chancellor.
'Lively and scholarly'
Following the announcement of her appointment, Ms Toksvig, who presents BBC Radio 4's News Quiz, had said: "I was surprised and delighted to be invited by the university to become chancellor and am very honoured to accept.
"I am passionate about higher education and am hugely impressed by Portsmouth's mission to encourage students from every walk of life to excel."
Vice-chancellor Prof John Craven said: "Sandi's career as broadcaster, author, comedian and producer has impressed and entertained British audiences for over 30 years and she brings to the university a lively and scholarly commitment to all that we do.
"I am personally delighted that Sandi has agreed to become an important part of our university."