Work starts on Portsmouth Historic Dockyard Royal Navy gallery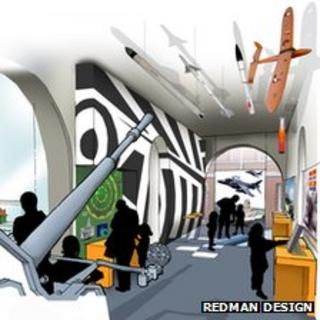 Work has begun on a £4.5m extension to exhibition galleries at the National Museum of the Royal Navy in Portsmouth.
The 900sq m (9,500 sq ft) addition to the Babcock Galleries will house an exhibition on the Royal Navy's role in conflicts since World War I.
Visitors will get the chance to meet Falklands, Gulf War and Afghanistan campaign veterans who will relay their experiences first hand.
The extension is due to open before the centenary of World War I in 2014.
A permanant exhibition, called HMS - Hear My Story, will tell the Navy's history over the last 100 years.
Project director Matthew Sheldon said it would be "a great boost for Portsmouth and a great national resource".
The museum has recruited a group of Royal Navy and Royal Marine veterans who have volunteered to share their experiences and give talks for visitors as part of the exhibition.
"It's living history - veterans can come and share stories face-to-face. That's what we think makes it unique," Mr Sheldon added.
The project has been part-funded by a £1.4m grant from the Heritage Lottery Fund.